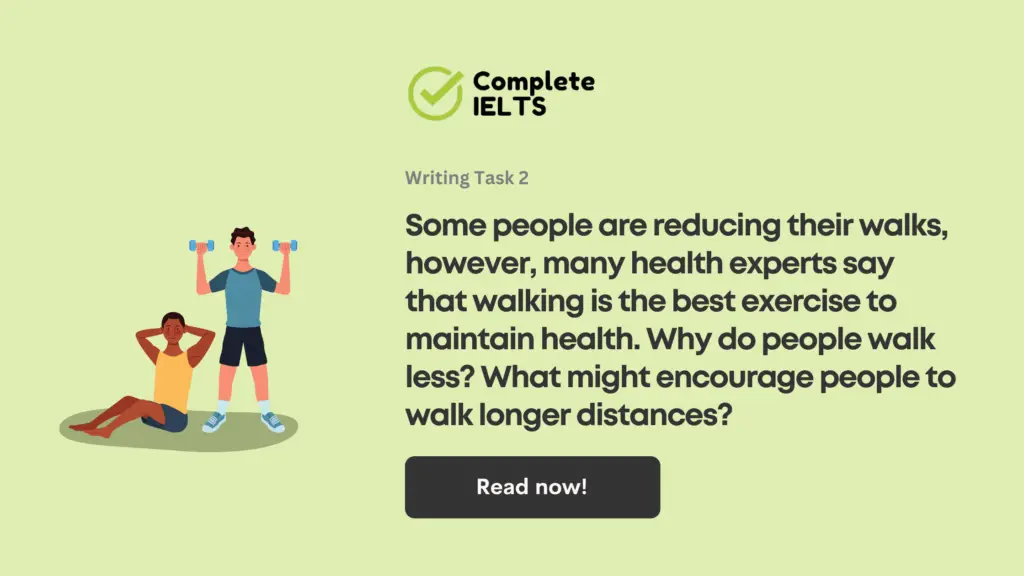 The Impact of Social Media on Relationships: A Global Perspective
You should spend about 40 minutes on this task.
Some people are reducing their walks, however, many health experts say that walking is the best exercise to maintain health. Why do people walk less? What might encourage people to walk longer distances?
Give reasons for your answer and include any relevant examples from your own knowledge or experience.
You should write at least 250 words.
In today's interconnected world, social media has become an integral part of our daily lives. It has revolutionized the way we communicate and connect with others. However, its widespread use has raised concerns about its impact on relationships. This essay will delve into the various ways social media affects relationships, considering both its advantages and disadvantages. Ultimately, it will provide an informed analysis of this phenomenon on a global scale.
One of the positive aspects of social media on relationships is its ability to bridge geographical distances. Platforms like Facebook, Instagram, and Twitter allow individuals to stay connected with friends and family members living far away. For instance, a person can easily keep in touch with loved ones abroad through regular video calls and instant messaging. This fosters a sense of closeness and strengthens the bond between individuals, irrespective of the physical separation.
On the other hand, the dominance of social media in modern relationships has led to increased concerns about privacy and trust. With the expanse of platforms like Snapchat and Instagram, individuals often feel compelled to share intimate aspects of their lives, inadvertently exposing their relationships to public scrutiny. This constant need for validation and the pressure to portray a picture-perfect image can strain relationships, as partners may become suspicious or resentful of each other's online activities.
Moreover, the addictive nature of social media can lead to a decrease in quality time spent together by couples. Studies have shown that excessive usage of platforms such as Facebook and YouTube can contribute to procrastination and overall dissatisfaction in relationships. Instead of engaging in meaningful conversations or activities, partners may find themselves mindlessly scrolling through their news feeds, leading to a lack of emotional connection and a decline in relationship satisfaction.
In conclusion, while social media has undoubtedly revolutionized how we connect with others, it can have both positive and negative impacts on relationships. The ability to stay connected with loved ones across the globe is a significant advantage, but concerns surrounding privacy, trust, and time management need to be addressed and balanced. Thus, individuals should strive for a mindful and moderate approach to social media usage in order to foster healthy and thriving relationships.
Essay Word count: 365 words 2,455 characters

Vocabulary List:
Revolutionized (verb): To bring about a complete and radical change.
Example: The advent of smartphones revolutionized the way we communicate.
Integral (adjective): Necessary for completeness; essential.
Example: Physical exercise is integral to maintaining good health.
Delve (verb): To explore or investigate intensively.
Example: The detective delved into the suspect's background to find evidence.
Advantages (noun): Benefits gained from a particular situation or action.
Example: One of the main advantages of studying abroad is the exposure to diverse cultures.
Disadvantages (noun): Negative aspects or drawbacks of a situation or action.
Example: One of the disadvantages of living in a big city is the high cost of living.
Fosters (verb): Encourages or promotes the development of something.
Example: The mentor fosters a supportive environment for their mentee to grow.
Scrutiny (noun): Close and critical examination or observation.
Example: The company's finances were under scrutiny after allegations of fraud.
Compelled (verb): Forced or obliged to do something.
Example: The witness was compelled to testify in court.
Addictive (adjective): Habit-forming, causing a strong dependence.
Example: The new mobile game is so addictive that players find it hard to stop playing.
Mindlessly (adverb): Absent-mindedly or without conscious thought.
Example: I mindlessly scrolled through my social media feeds for hours.
Remember to use these vocabulary words naturally in your own context within the essay to boost your vocabulary score.